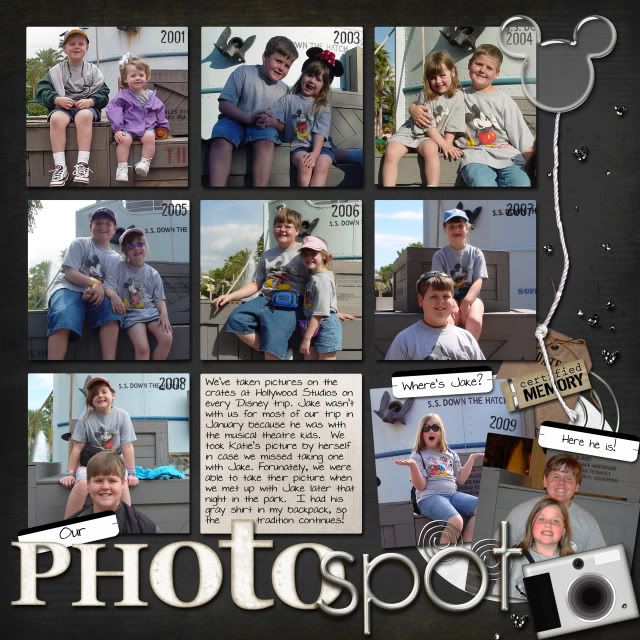 Text:
We've taken pictures on the crates at Hollywood Studios on every Disney trip. Jake wasn't with us for most of our trip in January because he was with the musical theatre kids. We took Katie's picture by herself in case we missed taking one with Jake. Forunately, we were able to take their picture when we met up with Jake later that night in the park. I had his gray shirt in my backpack, so the tradition continues!
Credits:
Background paper - Enjoy the Moment by Sahlin Studios
File labels & silver swirls - Enjoy the Moment by Sahlin Studios
Clear Mickey balloon - Enjoy the Moment Add On by Sahlin Studios
Delicate Mickey Sprinkles by Britt-sh Designs
Camera - Everyday Memories - SYTYCD Week 2 by Wild Dandelions
Certified Memory tab - Life ... Captured by Julie Marie Designs
Dates - Complete Classic Date Stamps by Peppermint Creative
Basic Chipboard Alpha by Dani Mogstad
In the City Alpha by Sahlin Studio
__________________

Been There, Done That, Going Back!
1972 ~ 1977 ~ 1989 ~ 2001 Grosvenor ~ 2003 AS Movies ~ 2004, 2005, 2006, 2007 Pop Century ~
2008 POR ~ 2009, 2010, 2011 Pop Century ~ 2012 CBR ~ 2013 Pop Century ~ 2014 CBR ~ 2017 POFQ