Theme/Color Swatch for Design Challenge #33 - May/June 2017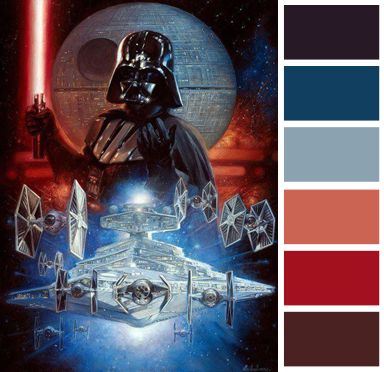 Hex Codes: #271a26, #113f60, #8ba2b0, #cb6453, #a3111e, #4a2222
In honor of the two Star Wars days this month:
May 4 - May the Fourth Be With You (a day for the good guys)
May 5 - Revenge of the Fifth (a day for the bad guys)
we are having a Star Wars Celebration; Design Challenge style!
The color swatch I created for this challenge was inspired by the image you see above (credit: Google search).
We are going to do this challenge a bit differently...
You may
either
use the provided
color swatch
to create something of any theme, or you may use the photo as your
theme
inspiration.
You don't have to create Star Wars, and you don't have to use the color swatch...just use one or the other to create something magical.
Of course, if you want to use both the theme and the color swatch, you may.
Don't forget that if you choose to use the color swatch, you can use any shade (darker or lighter) of the chosen colors. You may also use these neutral colors: black, white, shades of gray, brown, silver, gold, and green (when used for foliage only).
Deadline - Friday, July 7 (by 11:59pm CST)
Reveal and Blog Hop on Friday, July 14.
Note the change in deadline and blog hop dates...they have been shifted ahead by one week due to a conflict in my schedule.

This kit will not be sold in the MouseScrappers store. The only way to get it is to participate in the Design Challenge. Since the kit is only available to participants (shared between friends), many of the restrictions that were in place for previous challenges have been lifted. Please contact me if you have any questions.
As you are planning your contribution, please look through the things others are making so the kit doesn't have a lot of duplicate items. We want this kit to have tons of variety! Try something new, learn a new technique, and stretch your boundaries a little! Check out
this thread
for resources, tutorials, tips, and tricks for designers.
We would like to include two templates in this kit. A PhotoShop template with at least 25 layers will fulfill the minimum submission requirement. You should submit both a layered PhotoShop document and untrimmed PNG files named 1,2,3,4,5,etc. The first two people to post in this thread indicating a desire to create a template for this month's challenge will be listed below.
Template 1: roxana
Template 2: murmer
Submission Guidelines:
Submissions can be any combination of papers, individual elements (such as ribbons, scatters, frames, etc), word art, alphas, and clusters. The minimum number of unique items is 5; the maximum number of unique items is 25. The same paper/element in different colors counts as one. A full alpha fulfills the minimum requirement. Although you may submit any combination of items you want, we would prefer to see themed mini kits (which include a combination of papers, elements, and possibly a coordinating alpha).
All papers and elements MUST use the provided color swatch—you can use any shade (darker or lighter) of the chosen colors. You may also use these neutral colors: black, white, shades of gray, brown, silver, gold, and green (when used for foliage only).
You must include a TOU in your submission. A basic fill-in-the-blank TOU can be found here if you don't have one of your own.
There is no mb maximum for submissions, but please make sure you are sizing a saving your items according to the following guidelines.

Papers should be:

12"x12" 300dpi (which is 3600pixels x 3600pixels),
Saved as a JPG file that is about 3mb.

In Photoshop, after clicking on the "Save As" button, enter the desired file name and select "JPG" from the dropdown menu; click on "OK". A popup screen should appear entitled "JPG Options"; change the quality value to "8" and click on "OK". Saving the file with a value of "8 or 10" for quality will ensure it is the correct size (approx. 3mb).

Elements/Alphas should be:

Sized appropriately for a 12"x12" 300dpi layout; make your items the same size you would want them to be when creating a layout. For example: 12"x12" is not a reasonable size for flower elements; 2"x2" is more appropriate,
Trimmed so there is a minimal amount of blank canvas around the item,
Saved as a PNG file—the file size (mb) will vary based on the size (inches) of the element.

A preview of your submission is required. It should be:

600pixels x 600pixels 72dpi,
It must minimally include your name (the one you used to save the files) and pictures of the items that you created for the challenge,
Previews may be as basic or elaborate as you want them to be.

A basic preview would tile the papers and/or line up the elements,
A more elaborate preview would arrange papers and/or elements in a more creative manner—as designers do to advertise their kits.
Some quality issues to pay attention to are listed below. If you have questions about what these things are or how to prevent/fix them, please ask! Everyone can benefit from adhering to these bullet points.
Do not pre-shadow elements or elements on papers.
Make sure paper textures aren't blurry at 100%.
Check that elements are not cut off or missing parts.
When extracting or creating elements, be sure the edges are not jagged. Do NOT use the paint bucket tool to recolor elements--you will get jagged edges every time!
After creating a paper or element, check to be sure it is in gamut.
You can find more information on QC issues
here.
Files and Zipped Folder(s):
Naming your files:

Your MS username_DC#_element type_description

Paper Example: MMouse_DC50_paper_green.jpg
Element Example: MMouse_DC50_button_red.png
Alpha Example: MMouse_DC50_alpha_uppercase_A.png
Naming your folder(s):

Your MS username_DC#
Example: MMouse_DC50
If your username is longer than 8 characters, please use an abbreviation. Avoid using spaces anywhere in the file/folder name. If you design under a different name, you may use that name instead of your MouseScrappers name.
Please limit the size of each zipped folder to 50mb. If your submission is larger than 50 mb, please split it into separate zipped folders to help control download times. If you have more than one zipped folder, name them in this manner:
Your MS username_DC#_folderletter
Example: MMouse_DC50_A & MMouse_DC50_B
To zip files place all your elements and a TOU inside a folder, then zip that folder. This is automatically creates a folder containing your files in whatever folder the user unzips to. Please submit only ZIP files, do NOT submit RAR files.
There are many ways to compress (zip) a folder. You can use a program such as WINZIP or, if you are on a Windows operating system, there is a utility built into Windows that you can use.
Right click on the folder containing your items and select "Send To". Click on "Compressed (zipped) folder". A new folder will be created in the same directory with the same name but it will be compressed (zipped).
Uploading Submissions:
Effective June 15, 2017 -- We will be utilizing Dropbox to collect submissions, so you will need a free, personal Dropbox account (dropbox.com). When you are ready to submit your items, upload your zipped folder(s) to your personal Dropbox. After you have the folder(s) uploaded, navigate to them in your Dropbox account and select "share" next to the desired folder. Choose "create a link" and then "copy link". Paste that link into a MouseScrappers PM to me, frogfish (Christina), and send. Note: if your submission includes more than one zipped folder, you must share the link to each individual zipped folder. Please let me know if you have any questions or problems.
Disclaimer:
This kit will NOT be sold in the MouseScrappers store. The only way to get it is to participate!
Every month you participate in this challenge, you will receive the resulting design challenge collaboration kit (for that month) free of charge, but will receive no compensation (monetary or otherwise) for your submission to the challenge. Copyright of your submission remains with you.
If you have any questions, please don't hesitate to contact me.
You DON'T have to be a designer; anyone can do this!
The more people who participate, the bigger the monthly kit will be!